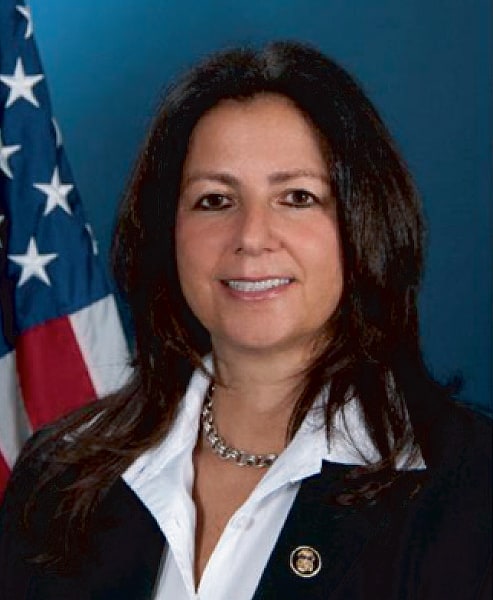 Regina Lombardo
Associate Deputy Director
Bureau of Alcohol, Tobacco, Firearms and Explosives (ATF)
US Department of Justice
Regina Lombardo was appointed the 2nd highest ranking official of the Bureau of Alcohol, Tobacco, Firearms and Explosives in March 2017. As the Associate Deputy Director and Chief Operating Officer, Ms. Lombardo is responsible for the day-to-day operations of an agency charged with enforcing laws and regulations related to firearms, explosives, arson, and alcohol and tobacco trafficking.
At the time of her appointment, she was serving as the Assistant Director for ATF's Office of Human Resources and Professional Development (HRPD) where she was responsible for the strategic management of ATF's workforce through recruitment, selection, development, and evaluation programs, ensuring it stands ready to meet the challenges of the Bureau's mission.
Prior to her AD appointment, Special Agent Lombardo served as ATF's Deputy Assistant Director (DAD) of Field Operations bringing her years of operational experience handling critical incidents and her ability to cultivate a positive, high energy workforce to the ATF leadership team.  She provided both strategic and operational leadership to field enforcement executives throughout the Central areas of the United States.
As member of the Senior Executive Service and a seasoned law enforcement professional, Ms. Lombardo began her law enforcement career in 1992, as a special agent in the ATF Miami Field Division.  Rising through the ranks at ATF, she served in many management positions including Deputy Assistant Director of Field Operations, Special Agent in Charge of the Tampa Field Division: Assistant Special Agent in Charge of the New York Field Division; Chief, ATF's Leadership Institute; Group Supervisor for the High Intensity Drug Trafficking Area Task Force in Miami; and as Assistant ATF Country Attache in Toronto, Canada.
Ms. Lombardo holds a bachelor's degree from the University of South Florida and is a member of several organizations which include: Women in Federal Law Enforcement, The National Association of Women Law Enforcement Executives, the Florida Sheriffs Association, the International Associations of Chiefs of Police, and Major City Chiefs.  She is most noted and respected by her peers for her leadership style, a balance between the heart and sword, her passion for her work and leads from within.
Congratulations to our newest Acting Deputy Director, Regina Lombardo!
On April 24, 2019, AG William P. Barr announced that he has appointed Regina "Reggie" Lombardo to be Acting Deputy Directo of the Bureau of Alcohol, Tobacco, Firearms and Explosives (ATF), effective May 1, 2019.  Lombardo will replace Thomas Brandon, who will be retiring from federal service on April 30, 2019.
ADD Lombardo is the first female to lead the agency in its history.